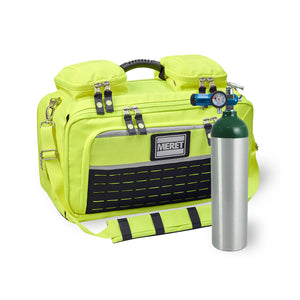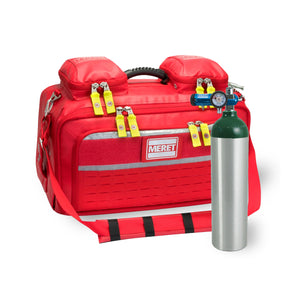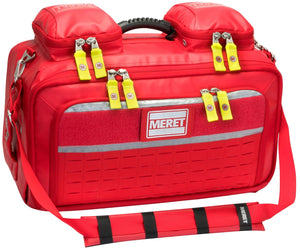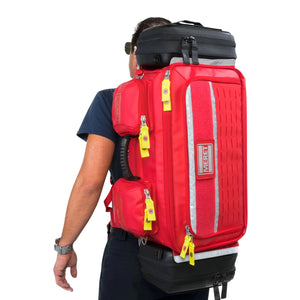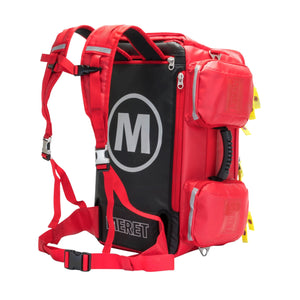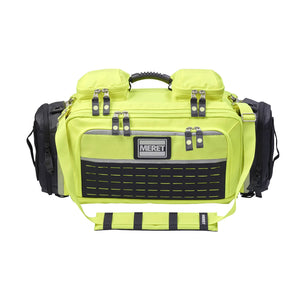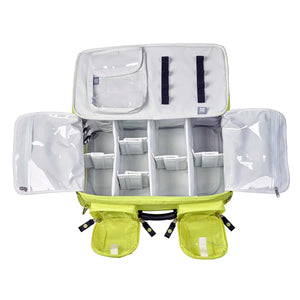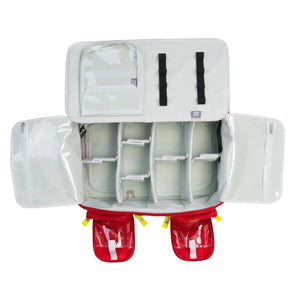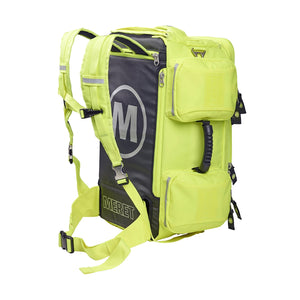 Want to know more ? Contact us below
หากต้องการทราบข้อมูลเพิ่มเติม ติดต่อเราได้ที่นี่
Discount Code: รหัสส่วนลด:
Erpro
'Rescue Professional' use this discount code to get 20% off your order at checkout.
Note you must provide a copy of license before your order can be shipped.
เมื่อมีการสั่งซื้อสินค้า สำหรับเจ้าหน้าที่กู้ชีพ กู้ภัย สามารถใช้รหัสส่วนลดนี้เพื่อรับส่วนลดได้ถึง 20%
*เพียงแค่ส่งรูปภาพบัตรประจำตัวเจ้าหน้าที่ของคุณมายืนยันเท่านั้น*
SET INCLUDES:

• M8101 - OMNI™ PRO X ICB Emergency Response Bag
• MDCYLT-W - MD Medical Oxygen Cylinder
• AREG8725-B2D-BU - CGA870 Regulator w/Barb + 2 DISS 0-25LPM
• M8001X - Cylinder Conversion Kit 
 
DESCRIPTION
The OMNI™ PRO X is the perfect BLS/ ALS Emergency Response System for the first responder who wants an organized solution for their equipment.

The patented OMNI™ PRO X uses specialized interchangeable TS2-Ready™ modules, enabling the first responder to customize the bag depending on a team's requirements. These same modules can also be labeled for easy identification and stowed inside the main compartment of any TS2-Ready™ ready bag. Additional items can be secured to the front laser cut MOLLE panel. The main internal compartment can be completely customized to efficiently organize large and small items by using the innovative slider divider system.
Using OneView™ technology, the bag opens completely facing one direction, providing fast access to all compartments without moving the bag. A large front pocket offers space for longer items such as intubation aids. A system of grommet holes allows all compartments to be air dried while the bag is completely closed. The bag is ergonomically designed for use as a backpack, shoulder bag, can be carried briefcase style, or can be grabbed from any position using a system of light weight comfort-grip side handles.

The OMNI™ PRO X uses a hideaway, mountaineering style backpack harness that provides a snug and secure fit. Walk, run, climb, or descend, this backpack system keeps the entire bag close to your body with a comfortable fit, including padded lumbar support. The entire harness system hides away in a zippered pocket in the back of the bag when not in use. All sides of the bag that touch the ground are reinforced to ensure durability and water resistant.

Discreetly constructed into the rear pocket of the backpack system, an ultrathin M4L (MERET 4 LIFE)  panel is positioned to defend your vital chest region. This feature can provide protection in order to quickly aid and evacuate the injured.

Need to include oxygen in your kit? Simply install the M8001X conversion kit and you can secure up to a Jumbo "D" oxygen cylinder and access it while the bag is completely closed. Your partner can easily remove the entire cylinder or operate the oxygen while you wear the OMNI™ PRO X as a backpack.

Modules and supplies shown in images are not included.

KEY FEATURES
Infection Control Complete (ICC) versions are constructed from wipe-clean infection control materials internally and externally. Bright internal materials for easy-view of supplies
Converts your 2 bags into a 1 bag system

4cm x 45cm front name tape area, MERET tape included
Front laser cut MOLLE panel for accessory customization
Fits 4+ TS2-Ready™ modules internally or 2 externally
1 DEEP STUFF pocket, 2 STICKIT Strips and shoulder strap with metal hardware INCLUDED
Add the M8001X to add O2 cylinder storage
Increased size can support All-In-One VIPR O2 systems
Oversized YKK zippers
Matte finish metal hardware
Double stitching on all stress points
Riveted bottom skid runners prevent wear
Inner foam construction maintains shape and protects contents
COMFORT-GRIP carry handles with reflective logos on sides of the bag (except on black)
Lined back and bottom resists water and wear
Hideaway adjustable, padded, contoured yoke backpack strap harness system easily distributes weight for maximum comfort
Adjustable sternum and waist belt, lumbar support
Reflective front/ back/ side panels, tie down loops, zipper, and handle logos (except on black)
Removable Unit/ Contents identification panel that can be replaced with your own custom embroidery panel
TS2 Ready™ hideaway zippers for 2 optional side TS2 Ready™ modules
TS2 Ready™ for 4 removable DEEP STUFF Pockets, 12 removable STICKIT STRIPS, or combinations of both
Large EZ-Pull pullers allow easy access
OneView™ technology- all main compartments open completely in front of first responder
Zippered internal compartments
Customizable internal main compartment using SLIDERS™ System
Overlapping internal panels secure contents
Dual large external zipper pockets with mesh lined compartments
Solid-Grip, large main carry handle
All compartments have air dry capability
Product Dimensions: 30cm x 59cm x 24cm (15" x 22" x 9.5")Product Weight: 9kg setM4L Lifetime Warranty, 5 Year Warranty