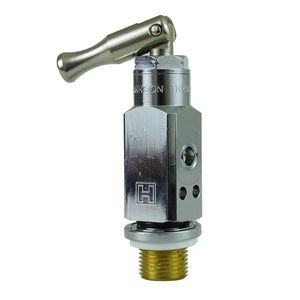 Want to know more ? Contact us below
หากต้องการทราบข้อมูลเพิ่มเติม ติดต่อเราได้ที่นี่
Discount Code: รหัสส่วนลด:
Erpro
'Rescue Professional' use this discount code to get 20% off your order at checkout.
Note you must provide a copy of license before your order can be shipped.
เมื่อมีการสั่งซื้อสินค้า สำหรับเจ้าหน้าที่กู้ชีพ กู้ภัย สามารถใช้รหัสส่วนลดนี้เพื่อรับส่วนลดได้ถึง 20%
*เพียงแค่ส่งรูปภาพบัตรประจำตัวเจ้าหน้าที่ของคุณมายืนยันเท่านั้น*
DESCRIPTION
In addition to the features of the standard medical post valve, this valve contains a durable easy-grab "toggle" used to turn the valve on and off. This added feature eliminates the need of using a wrench to open and close the valve.
KEY FEATURES

• O-ring seal technology provides superior leak integrity.
• Protective and attractive chrome plated finish.
• 100% leak testing on entire production.
• Meets and exceeds CGA V9 and ISO 10297.
• Passed stringent adiabatic oxygen compression testing per ISO 10297.
• All valves bagged and tagged for oxygen service per CGA G4.1.
• All valves pre-drilled to accept aftermarket toggle device.
• All straight thread inlet valves are supplied with cylinder sealing o-ring.
• All valves are supplied with a protective thread cover.