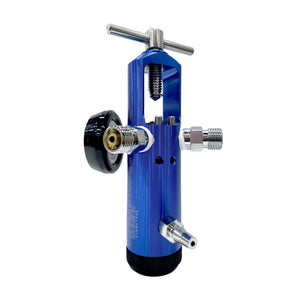 Want to know more ? Contact us below
หากต้องการทราบข้อมูลเพิ่มเติม ติดต่อเราได้ที่นี่
Discount Code: รหัสส่วนลด:
Erpro
'Rescue Professional' use this discount code to get 20% off your order at checkout.
Note you must provide a copy of license before your order can be shipped.
เมื่อมีการสั่งซื้อสินค้า สำหรับเจ้าหน้าที่กู้ชีพ กู้ภัย สามารถใช้รหัสส่วนลดนี้เพื่อรับส่วนลดได้ถึง 20%
*เพียงแค่ส่งรูปภาพบัตรประจำตัวเจ้าหน้าที่ของคุณมายืนยันเท่านั้น*
MERET® economy oxygen regulators incorporate the latest in regulator technology to deliver the highest level of safety, reliability, durability, and precision flow. Economy regulators are constructed from an aluminum outer body with brass internal high pressure flow components for safe operation. Economy regulators are laser-etched with a corrosion resistant navy anodized finish for additional protection from the elements.
MERET® economy regulators use a CGA870 connection with barb outlet and operate at 50 PSI.
At only 5.25" inches in body length this regulator is extremely compact and weighs only 1.00 lbs.
The 0-25 LPM regulator can be set to 0, 0.5 , 1, 2, 3, 4, 5, 6, 8, 10, 15, or 25 LPM. 
The 0-15 LPM regulator can be set to 0, 1/2, 1, 1 1/2, 2, 3, 4, 5, 6, 8, 10, or 15 LPM. 
Regulators are individually calibrated and tested 100% for flow and leak. Meets or exceeds standards for ASTM, CGA, and ISO. ASTM G175, CGA 870 V-1, CGA G-4.1-2009, ISO 15024-1, EN ISO 13485:2016.
KEY FEATURES
Brass and aluminum construction
Solid t-handle with "C" ring retainer
Optional rubberized comfort grip hand knob
Anodized finish
UL listed low profile impact resistant pressure gauge
FDA recommended brass-viton sealer washer
Sintered 40 micron triple inlet filter
Durable universal barbed outlet
Optional PTO ¼ NPT threaded DISS outlets with check valves operate > 170 LPM @ 3000 PSI
12 Position precision flow +/- 10% of flow setting
Serialized regulator identification
Laser etched identification markings
Blue anodized aluminum flow control knob