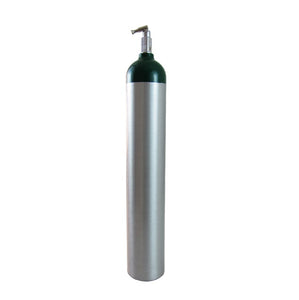 Want to know more ? Contact us below
หากต้องการทราบข้อมูลเพิ่มเติม ติดต่อเราได้ที่นี่
Discount Code: รหัสส่วนลด:
Erpro
'Rescue Professional' use this discount code to get 20% off your order at checkout.
Note you must provide a copy of license before your order can be shipped.
เมื่อมีการสั่งซื้อสินค้า สำหรับเจ้าหน้าที่กู้ชีพ กู้ภัย สามารถใช้รหัสส่วนลดนี้เพื่อรับส่วนลดได้ถึง 20%
*เพียงแค่ส่งรูปภาพบัตรประจำตัวเจ้าหน้าที่ของคุณมายืนยันเท่านั้น*
DESCRIPTION

The popular ME medical oxygen cylinder is the perfect choice for anyone who needs to be able to transport a significant oxygen supply. The ME cylinder can supply just under 30 hours using the RESOURCE v.2 pneumatic conserving device or up to 62 hours using the SOLO2 pneumatic conserving device. This cylinder can be conveniently transported using the CART101-A chrome cylinder cart. This cylinder comes standard with a CGA870 toggle valve.

• Service Pressure (psi/bar): 2015/139
• Water Capacity (lbs/liters): 10.1/4.8
• Diameter (cm/mm): 11.2/111.1
• Length (cm/mm): 65/649.6
• Cylinder weight (lbs/kgs.): 7.5/3.4
• Oxygen (cu ft/liters): 23.7/670

*All cylinders are shipped empty. We do not sell or ship filled oxygen cylinders.
*Cylinder measurements only not including valve measurements.