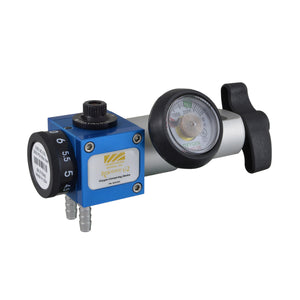 Want to know more ? Contact us below
หากต้องการทราบข้อมูลเพิ่มเติม ติดต่อเราได้ที่นี่
Discount Code: รหัสส่วนลด:
Erpro
'Rescue Professional' use this discount code to get 20% off your order at checkout.
Note you must provide a copy of license before your order can be shipped.
เมื่อมีการสั่งซื้อสินค้า สำหรับเจ้าหน้าที่กู้ชีพ กู้ภัย สามารถใช้รหัสส่วนลดนี้เพื่อรับส่วนลดได้ถึง 20%
*เพียงแค่ส่งรูปภาพบัตรประจำตัวเจ้าหน้าที่ของคุณมายืนยันเท่านั้น*
The RESOURCE v.2™is a highly effective pneumatic (No Batteries Required) oxygen conserving device designed exclusively for the ambulatory patient. The unit delivers the prescribed flow of oxygen with every breath, however only during the inspiration cycle, thus doubling (in most cases) the time available for use versus a traditional continuous flow system.
• Pneumatic operation which requires no electronics or batteries
• Compact and lightweight design weighing only 0.4kg
• Eleven flow settings ranging from 1 to 6
• Durable brass and aluminum construction meets industry standards
• Two delivery modes – Conserve and Continuous
• Hours of use are more than doubled in the conservation mode
Cramer Decker Medical