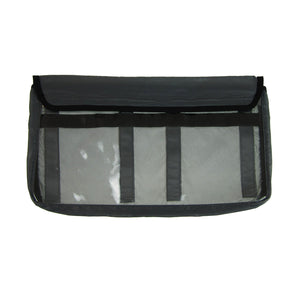 Want to know more ? Contact us below
หากต้องการทราบข้อมูลเพิ่มเติม ติดต่อเราได้ที่นี่
Discount Code: รหัสส่วนลด:
Erpro
'Rescue Professional' use this discount code to get 20% off your order at checkout.
Note you must provide a copy of license before your order can be shipped.
เมื่อมีการสั่งซื้อสินค้า สำหรับเจ้าหน้าที่กู้ชีพ กู้ภัย สามารถใช้รหัสส่วนลดนี้เพื่อรับส่วนลดได้ถึง 20%
*เพียงแค่ส่งรูปภาพบัตรประจำตัวเจ้าหน้าที่ของคุณมายืนยันเท่านั้น*
The DOUBLE DEEP STUFF pocket provides extra space for larger supplies that you may want to quickly and easily remove from the OMNI™. These 8.5cm x 41cm x 4cm (8.5" x 16" x 1.5") pockets secure to any OMNI™ bag. The pockets can either remain closed using the hook and loop top closure or they can be secured in the open position using the internal panel connection to provide quick access to supplies.
••Multiple 1" hook and loop strips provides secure connections
••Can be secured in the open or closed positions