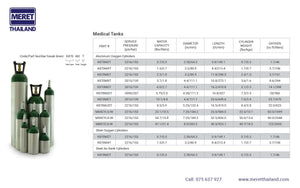 Want to know more ? Contact us below
หากต้องการทราบข้อมูลเพิ่มเติม ติดต่อเราได้ที่นี่
Discount Code: รหัสส่วนลด:
Erpro
'Rescue Professional' use this discount code to get 20% off your order at checkout.
Note you must provide a copy of license before your order can be shipped.
เมื่อมีการสั่งซื้อสินค้า สำหรับเจ้าหน้าที่กู้ชีพ กู้ภัย สามารถใช้รหัสส่วนลดนี้เพื่อรับส่วนลดได้ถึง 20%
*เพียงแค่ส่งรูปภาพบัตรประจำตัวเจ้าหน้าที่ของคุณมายืนยันเท่านั้น*
DESCRIPTION
The popular M9 cylinder is a great balance between portability and oxygen supply duration. The M9 is less than 41cm in length and weighs only 2kg yet can supply up to over 5 hours using the RESOURCE v.2 pneumatic conserving device or just under 24 hours using the SOLO2 pneumatic conserving device.This cylinder comes standard with a CGA870 toggle valve.
• Service Pressure (psi/bar): 2015/139
• Water Capacity (lbs/liters): 3.7/1.8
• Diameter (cm/mm): 11.2/111.1
• Length (cm/mm): 27.4/273.1
• Cylinder weight (lbs/kgs.): 3.6/1.6
• Oxygen (cu ft/liters): 8.6/244

*All cylinders are shipped empty. We do not sell or ship filled oxygen cylinders.
*Cylinder measurements only not including valve measurements.