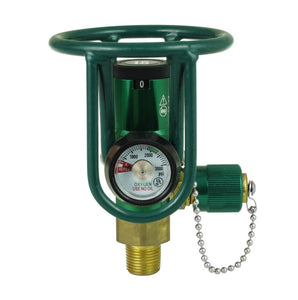 Want to know more ? Contact us below
หากต้องการทราบข้อมูลเพิ่มเติม ติดต่อเราได้ที่นี่
Discount Code: รหัสส่วนลด:
Erpro
'Rescue Professional' use this discount code to get 20% off your order at checkout.
Note you must provide a copy of license before your order can be shipped.
เมื่อมีการสั่งซื้อสินค้า สำหรับเจ้าหน้าที่กู้ชีพ กู้ภัย สามารถใช้รหัสส่วนลดนี้เพื่อรับส่วนลดได้ถึง 20%
*เพียงแค่ส่งรูปภาพบัตรประจำตัวเจ้าหน้าที่ของคุณมายืนยันเท่านั้น*
DESCRIPTION
The O2GO All-In-One regulator/valve makes oxygen transport simple, economical, and easy. The regulator is always available and ready because it's attached to the cylinder. The O2Go features an integrated regulator with a built-in fill valve, allowing for easy transfilling using a standard CGA 540 fitting. The unique "Patent Pending" composite designed regulator yields a more lightweight product which adds to ease of use and portability. The fill valve is designed for automatic operation without the need for a manual valve. All brass internal construction is designed to perform in a pure oxygen environment. This design has passed ASTM G175 ignition sensitivity testing for oxygen regulators by an independent laboratory. Proudly manufactured, built, and tested, in the U.S.A. This lightweight "Time Tested" & "Patented" Regulator technology is available in a variety of flow selections and connection styles.